This blog was originally posted in November 2014. We love it so much that we wanted to share it again!
What happens when you arrive at the movie theatre on time?  You get the full picture.
Our 'picture' starts with Creation and the fact that Adam and Eve were given a task: to be fruitful, fill the earth, and make something of it.  This Cultural Mandate is our job description, part of what it means to be human, part of God's design for us which remains unchanged to this day. Somebody put it this way: "On the last day God created Adam, to pick up where He left off."

The Image of God
Genesis 1:27 tells us that man was made in the image of God.  What are the consequences of being made in the image of the Creator God, the First Artist?
Reconciled World has a project in India where we do art with people who do not consider themselves artists.
Here is one thing we like to do, something you can try out as well:  take a sheet of paper, fold a crease across its middle, and draw your signature nice and big along the crease.  Now turn the paper upside down, and try drawing the mirror image of your signature along the same crease.  Finished?  Now turn it on its side and look at it.  What you have just created, is a work of art. It may be abstract or it may resemble something, but it's a work of art.  But which signature was easier to write, the first one or the mirror image?
There is a reason why the first signature was easier. Just as you have a unique fingerprint, a unique iris, a unique voice, you have a unique mark-making system: a unique way that you draw a line, whether you think it straight or not. Your signature is the best example of that. Drawing the mirror image is difficult precisely because you are writing in opposition to your unique mark-making system.
Our unique ability to 'make a mark' is true in both senses of the word. The physical mark made by pen or paint, is a unique physical expression—a physical extension—of ourselves.  But each human being was also created uniquely to make a difference, to leave an impression on our surroundings, to have and exercise a sphere of influence, to make something of this world—our Cultural Mandate.
The Value of Mark-Making
There are some artists who have become rich and famous because of their unique mark-making systems, simply through the making of physical marks. The 20th Century American painter Cy Twombly is known for his 'blackboard paintings.'  The blackboard painting on the right, called "Untitled" and made in 1970, is literally made of scribbles of white wax crayon and will be auctioned this month at Christie's in New York. It is expected to fetch between $35 to $55 million (Update: It sold for over $70 million).  A similar work sold for $5.5 million in 1990. Other artists known for their mark-making, whose works also sell in the millions, are Brice Marden and Willem deKooning, shown here below along with another of Twombly's 'blackboard' paintings.
And then there is this Indian artist, named Gyansham.  Here are two of his works:
But he isn't rich and famous. Gyansham was picked up by one of the ministries we partner with who rescue the dying and destitute off of Delhi's streets. When they found him, crouching like a little bird under a concrete overpass, he was immobile with his knees locked under him and his pants packed with dry feces. He was mentally unstable and when, during an art workshop, I first put a brush into his hands he was too scared to hold it. He kept repeating: "I can't do this, I can't do this." But he eventually did, and when I came back 15 minutes later, I found the beautiful painting above on the right. The similarities with the de Koonig above it are striking!  But we shouldn't be surprised.  Gyansham is designed to make a mark on this world, literally and figuratively, because like de Koonig, he is made in God's image.
We believe that by giving people the chance to be creative, they become more human, more of what God intended them to be, made in His image.  In our work with the marginalized and dispossessed, we see art play a role in healing: in helping people tell their stories, express themselves, and process difficult experiences. And we also see the joy they experience when they create: men, women and children experiencing their God-given identity, exercising a part of who they are which they rarely have had a chance to before—and in the process, they produce beauty.  Here is an example of a destitute friend at work painting, as well as the finished work of art: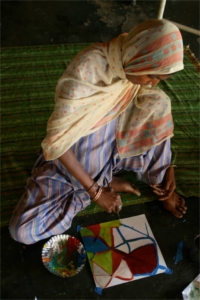 Our project making art with destitute men and women has its genesis in a group of artist friends deciding we wanted to make paintings about the issue of destitution in our city. A friend challenged us to not just paint about the destitute, but to paint with them. And so we spent two weeks living with the destitute at the ministry on the outskirts of Delhi. The first week we made art with our destitute friends, and the second week we made art about our destitute friends—wrestling with the issue of destitution and the question of human value. The result was an exhibition in a local art gallery that presented the work of both sets of artists. For the ope
ning ceremony, instead of choosing someone 'important' to be our Chief Guest—for art exhibitions, typically a local politician or some other public figure—we chose someone important: a couple of the destitute men themselves, who jointly declared the exhibition open!
What are the consequences of being made in the image of God, as the beginning of our story informs us we are?  We recognize that human beings have both inherent creativity and inherent dignity.  And in a society shaped by the lie that caste and material well-being determine the value of a person, making art not just about the marginalized, but with them, is a prophetic act.
Stefan runs the Create Commission project in India.  He is passionate about the interface between faith, art, and social issues, and the powerful and necessary role that art plays in speaking truth and shaping society.