The truth is that human beings, created by a loving God in his own image, are inherently and infinitely valuable.
Art, whether painting, film-making, poetry or song plays a powerful role in popularizing that truth, and in shaping the kind of society we create. Because of its nature as indirect communication, art speaks, moving straight past our usual defenses, challenging our assumptions, giving voice to the unborn child, the woman facing violence, the sick, the poor, and the disempowered.
Art plays a role in the Great Commission, the discipling of nations. However, art also heals, giving the broken and marginalized a voice to deal with the past as well as a voice to learn and speak about their present. The very act of creating, fulfilling the Creation Mandate given to Adam and Eve, is healing. By giving people a chance to be creative, they become more human, more of what God intended them to be.
Program Details
We seek to raise up a community of artists who are pondering deeply how to create art that speaks truth to society, as well as to see the marginalized healed and empowered through art. The Create Commission's work fits into three categories:
Making Art that Speaks to Society
We bring together artists for three-week residencies at our art studio. During this time artists seek to understand a particular social issue from a Kingdom perspective. They then take time to create art that speaks to that issue. This art is then shared through exhibitions, short YouTube films and other organizations.
Mobilizing the Church in Art
Given the importance of art in speaking to a nation, the church in India is desperately short of Christian artists. It's not considered a secure career option, nor do parents have much theological understanding of God's value and purposes for art, so they discourage their children from this path. To address the lack of Christian artists we are setting up a scholarship and mentoring program for young followers of Christ to pursue Bachelors of Fine Arts (BFAs) and Masters of Fine Arts (MFAs).  The goal is to see artists, with a biblical worldview, entering the art world called and equipped to bring truth to their nation.
Ministering Dignity and Healing through Art
Art does more than just speak—it heals. By giving voice to pain that people can't express through words, art heals. We collaborate with other organizations to take art to the destitute, to children living in slums, and to at-risk adolescent girls. As they create art, they are able to share emotions and trauma in a new way, allowing healing and support to happen. The opportunity to create art also brings a new sense of dignity and self-expression to the marginalized.
The Create Commission is raising funds for a permanent art center—an 'Art Ashram,' a long-term project to make the vision of art discipling a nation sustainable.
Stories and Articles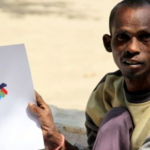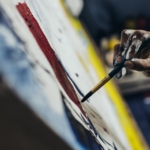 Small…
The following post comes from a guest writer. Nikki was one of the American participants of the 2016 International Artist Residency put on by The Create Commission. This is an … Continue reading Small… →