About
Art is powerful. It brings truth straight to the heart, helping us see things as if we had not seen them before. Through paintings, Stefan seeks to challenge his nation to 'look again'—at the suffering of women, at the injustices of growing economic disparity, at the humanity of TB patients and the destitute.
Stefan brings together groups of artists to hear from the marginalized and engage with issues that affect society. They reflect together on God's truth related to those issues and create art.  Art that disciples a nation.
Art is powerful also because it makes us more human, more of what the Creator God intended us to be—made in his image, with inherent dignity and a mandate to create.
Stefan and his team take art to the marginalized—destitute men, children living in slums, girls rescued from difficult situations.  Individuals are given the opportunity to discover their identity, process difficult experiences, and have their voices heard through art.  Art that heals and gives voice. More →
Give
Stories and Articles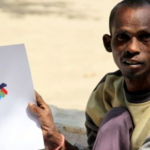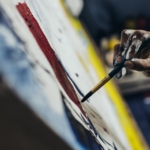 Small…
The following post comes from a guest writer. Nikki was one of the American participants of the 2016 International Artist Residency put on by The Create Commission. This is an … Continue reading Small… →