"Once you step out of your safe zone, whether that is your home or your workplace, you feel like you constantly have to be on guard, you have to constantly scrutinize your surroundings, if people are watching you, if men are watching you. What are they doing? Are they following you? Is there a car full of guys who are watching you?"
Imagine living in constant fear and discomfort. Imagine being repeatedly 'undressed' by the looks others give you as you walk down the street. Imagine being perceived as an object—rather than the individual that you are—to be groped and rubbed up against on public transport on your way to school or work.
Gender violence in India, whether verbal, physical, or psychological, is a huge issue. The horrific gang-rape of a young woman in a moving bus on December 16, 2012 brought the issue of gender violence not just to international headlines, but for the first time to the conscience of a nation. In an unprecedented outpouring of public protest on the streets of New Delhi, the perception of rape seemed to change for the first time from 'just the tragedy of an individual' to a recognition that there is a deeper malaise at work within Indian society. And yet the questions remain: Why is the violence so endemic? And what can be done about it?
A network of organization in India recently came together to address the needs that they saw related to gender reconciliation. They wanted to encourage deeper introspection, encourage examination of the roots of gender violence in society, and encourage dialogue that points constructively and prophetically towards what male female relationships could look like.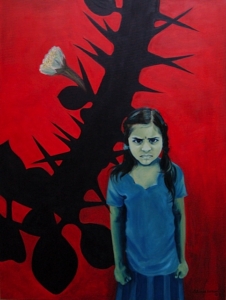 The Create Commission team was heavily involved, hosting an international artist residency on the topic, and collaborating with other organizations to hold a public protest/celebration and a panel discussion on women's issues.
Violence is hard to understand until you have experienced it. Many of the artists involved in the residency program were men. So how could they truly understand the issue? How could they understand what it feels like to be a woman in a country that places little value in being female, where discrimination and abuse are a daily struggle of a woman's life? The simple solution: Let the women tell their stories. A series of interviews were conducted. Women from various stages of life were asked to describe their experiences with men in their city. They shared stories of harassment in public places, constant staring, and the never-ending need to be vigilant of who is around you and who may be watching. But the women were also asked to share their dreams, for the future of India, for what they hoped men could become.
The interviews were powerful. Many of the artists were deeply troubled by what they heard, and yet deeply moved. For the men, it was the first time they were hearing the extent to which women face harassment and abuse. For some of the women it was the first time they were given the opportunity to talk about the issue of gender discrimination. Some of the artists didn't realize how their society devalues women and were encouraged for the first time to reflect on how they themselves view women.
During the residency program, on a visit to a local market, one female artist from the United States was groped in a crowd. As an outsider she became suddenly and viscerally connected to the issue. Listening to the interviews helped her further understand how her experience was only part of a wider spectrum of harassment that women face.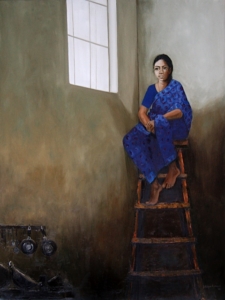 During the two weeks they resided together, the artists developed deep connections with each other, learning from each other's lives and challenging each other's worldviews. By living in community and being open with each other about gender issues, the artists came to understand the plight of women in India in a way they had never before. At the same time they were inspired by the responsibility of the artist not just to show a mirror to society, but to create a literal vision of what could be, of what a reconciled relationship between men and women could look like. The result was not just changed lives but a powerful body of artwork.
The artist residency culminated in a public art exhibition and a public protest/celebration. Rather than protesting gender violence as something out there, the public protest/celebration focused on the change that needs to start within each individual. At these events spectators were encouraged to reflect on their own behavior and celebrate personal commitments to treat the women in their lives with respect and dignity, whether at home, in their places of work, or on the streets of the city.
There is a long way to go before the world has complete gender reconciliation. But there is hope. Dialogue is increasing as more and more people realize that something is wrong. Art can point us to the truth that men and women are made in God's image with a dignity that demands nothing less that mutually respectful relationships.